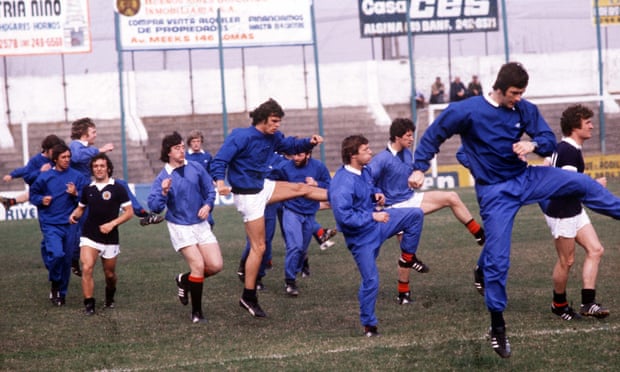 The Fiver awakened late to get there's an inexpensive chance Dominic Raab are going to be in temporary control of the country soon. We considered that for a flash . Then we considered necking the remainder of that Mogadon and Dettol cocktail we'd fixed for ourselves last night but didn't quite finish before blackout. But instead we decided to run. So we ran. and that we ran. and that we ran and that we ran and that we ran and that we ran and now we've found ourselves back in 1978.
Hm, the Fiver's blistering pace, combined with the concomitant vapour trail of antiseptic disinfectant and despair, must have somehow burned a hole within the space-time . And 27 March 2020 must are one hell of a slow day within the world of football. We've need to say, life seems pretty good back here. It's sunny. Sale of the Century, the quiz of the week from Norwich, is on Anglia later. And Boney M are favorite . One out of three ain't bad, so we're chalking this up as a win.
There's also a World Cup underway, although it hasn't been going too well for Scotland, who are making a rare old show of themselves over in Argentina. Having gone there promising to bring back "a medal of some sort", Ally MacLeod's lads have instead played like they're on the Tin, taking one point from their opening two matches against Peru and Iran.
They've also had to dismiss Willie Johnston for necking pep pills (he later claimed they were for hayfever), and today it's being reported that Don Masson ludicrously filed a false confession, pretending to possess taken some speedy sweeties too, within the hope of deflecting some heat faraway from his disgraced teammate. Full marks for loyalty, not numerous for the old logic.
It's also not exactly clear what the galoot who hoicked a brick through the window of the Scottish FA back in Glasgow was trying to realize . But the fans are unhappy, this much we all know . After the dire draw with Iran, the players went away with songs containing multiple usage of the letter eff ringing in their lugs. Scotland are now left with the Herculean task of beating Netherlands , finalists last time round and one among the favourites this year, by three clear goals.
Three clear goals! Well, good luck thereupon , lads. The Fiver isn't getting to bother watching, because if the primary two games are anything to travel by, we're pretty damn sure nothing memorable goes to occur. See you in 42 years for our next edition on Monday!
Can Ally's Army do it? Follow Scotland v Netherlands accept Scott Murray on our because it Happened retro MBM, Saturday from 2pm GMT (kick-off 3pm).
"I was sent a video of individuals within the hospital and once they started singing You'll Never Walk Alone, I started crying immediately. It shows everything, these people not only work but they need such an honest spirit. they carry themselves in peril because they assist sick people, so I couldn't admire them more and appreciate it more" — Jürgen Klopp shows his appreciation for NHS staff amid the coronavirus crisis.
Max and Barry are podding from range in the newest Football Weekly Extra, and it's a Sid Lowe special as they get the Lowe-down from our man in Spain. Listen below, or up here .
"Thursday's Fiver jogged my memory of a story from the very nasty Don Revie days. the good Jim Baxter was called right down to Leeds for an interview. 'I've been asking around about you, Baxter,' said Revie. 'And it seems that football is a smaller amount important to you than booze, birds and fast cars.' Slim Jim replied: 'you are remarkably well informed'" — Paul O'Sullivan.
Please follow and like us: